Will Annie and Brand become hefty support champions in Patch 10.22?
A few days ago, Riot Mark "Scruffy" Yetter – Lead Gameplay Designer for League of Legends posted some latest changes for Patch 10.22 on Twitter. Apparently, Riot Games is aiming to upgrade and readjust all these "old" champions such as Annie, Brand, and Nasus and slightly make a few changes for our 2 marksmen: Jinx and Ashe. For Annie and Brand, it seems that Riot Games wants them to become actual support champions (most of the high ELO players already use Brand as support anyway) when making them slightly better at providing team protection and the ability to poke better.
All the specific details:
"With 10.22 we have a bundle of small champion adjustments coming:"
Open up loved but unviable roles for Annie/Brand.
Slight modernizations for old spells for better feedback and usability.
Slight satisfaction increases with better-visualized mechanics.
About Champions Update
Annie:
E – Molten Shield
Damage reduction > 40 – 240 (+40% AP) shields for 3 seconds.
Mana cost 20 > 40.
Can now be cast on self or ally within 800 range.
Brand:
Passive – Blaze
Explosion damage 12 – 16% (1.5% per 100 AP) > 10 – 14% (2% per 100 AP).
E – Conflagration
[New Passive] Always spread to nearby enemies.
Spread range lowered from 375 > 300.
[Blazed] doubles spread range 300 > 600.
R – Pyroclasm
Pyroclasm can now bounce to Brand!
Future for Brand and Annie – Mages Turn Into Support Champions?
Annie
With Annie's adjustments, she will most likely become genuine support in Patch 10.22 with the ability to provide a decent shield and movement speed boost. Her E – Molten Shield will be a really great interaction to aid the marksman laning with Annie.
Don't forget, with the already-existed passive, allies who receive a Molten Shield when attacked by a basic attack will also revert some damage back to the enemies, this will be an excellent tool for trading in always 2v2 bot-lane situation. It is totally possible that Annie will become a full support champion in the upcoming Patch 10.22.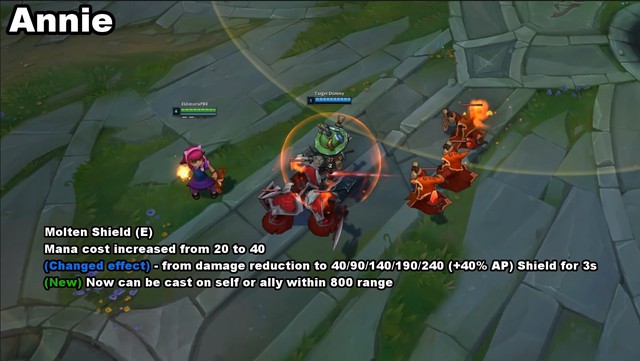 Brand
With his E – Conflagration now being spreadable with the target affected by Blazed. This update will help Brand poker much better in the early game instead of having to rely entirely on his W – Pillar of Flame to hit enemies. As he has always been chosen as support at this moment, this will give him an extra advantage over other support champions.
Conclusion
Hopefully, these small but significant adjustments will help all the aforementioned champions become more favored by League of Legends players, instead of being "unplayable" like this current state. Let see how well this will go, if it's great, maybe, you will see much more Mages cosplay into support champions.