TFT Mobile Launch Date – Similar to the previous alpha test of the Teamfight Tactics Mobile and Legend of Runeterra, this time, Riot Games has officially confirmed the official release time of the Teamfight Tactics Mobile.
Teamfight Tactics Mobile will officially be released on March 19 – TFT Mobile Launch Date
Teamfight Tactics is an Auto Chess game, first appeared with League of Legends players in June 2019 on a PC platform. Right from the day of its launch, TFT has attracted a lot of attention as well as affection of gamers. Riot has even made it a mode in LoL Client, alongside other traditional mode like ARAM or Summoner's Rift.
No longer rumors like League of Legends: Wild Rift, the way Riot Games is doing with the Legend of Runeterra and the Teamfight Tactics Mobile makes gamers extremely surprised. From the launch of the alpha test version in some markets to the way Riot launched the game's release time, it made players surprised.
Recently, Riot Games has unexpectedly confirmed the time to release Teamfight Tactics Mobile on both Android and iOS platforms. Specifically, March 19, Teamfight Tactics Mobile will officially come to gamers in most countries and regions. Southeast Asia and China are also confirmed to be released a few days later.
With the support of the fans, Riot has developed the TFT Mobile on the Mobile platform, to meet the expectations of the players, as well as contributing to expanding its market share to the game market play on smartphone.
On the 10th birthday of League of Legends in 2019, Riot has announced information on the development of TFT on smartphones. After that, a series of hot updates were also constantly brought, making gamers extremely excited.
In February, information on the demo version of the Teamfight Tactics Mobile appeared on websites. Unfortunately, it is limited to some regions. Players have to very hard to be able to experience this game.
However, only Android users can download TFT Mobile, and the phenomenon of queues, jerks, and lags … has caused gamers to increasingly expect TFT Mobile to be released worldwide.
And just last night, Riot Games announced the launch date of the TFT Mobile. On March 19 – tomorrow – this game can be officially downloaded on the App Store as well as Google Play. The game will also have cross-platform support in most regions, allowing PC and phone users to face each other.
"Gamers have been constantly asking us about different ways to play TFT Mobile, and we are delighted to bring you a familiar mobile version just like on a PC
In addition to carrying all the same features as on the League of Legends Client, TFT Mobile the official version will dock with season 3: Galaxies. Series of new mechanisms will be fully updated in the game. However, at the present time, gamers will not be able to buy decorative items to personalize their chessboard.
"Right now, we want to focus on the important features to ensure the game can be put to work in the best way. It also means that the Store and the Loot system will be available for a while after the game is announced. "
It also means that the time Riot will sell these items will be notified by Riot after the game goes into stable. Despite this, the DATA inventory on PC and phone is 1 – so if you buy the item on a PC, gamers can still unlock it on the phone version.
To be able to enjoy the Teamfight Tactics Mobile, your phone needs to meet the following minimum requirements: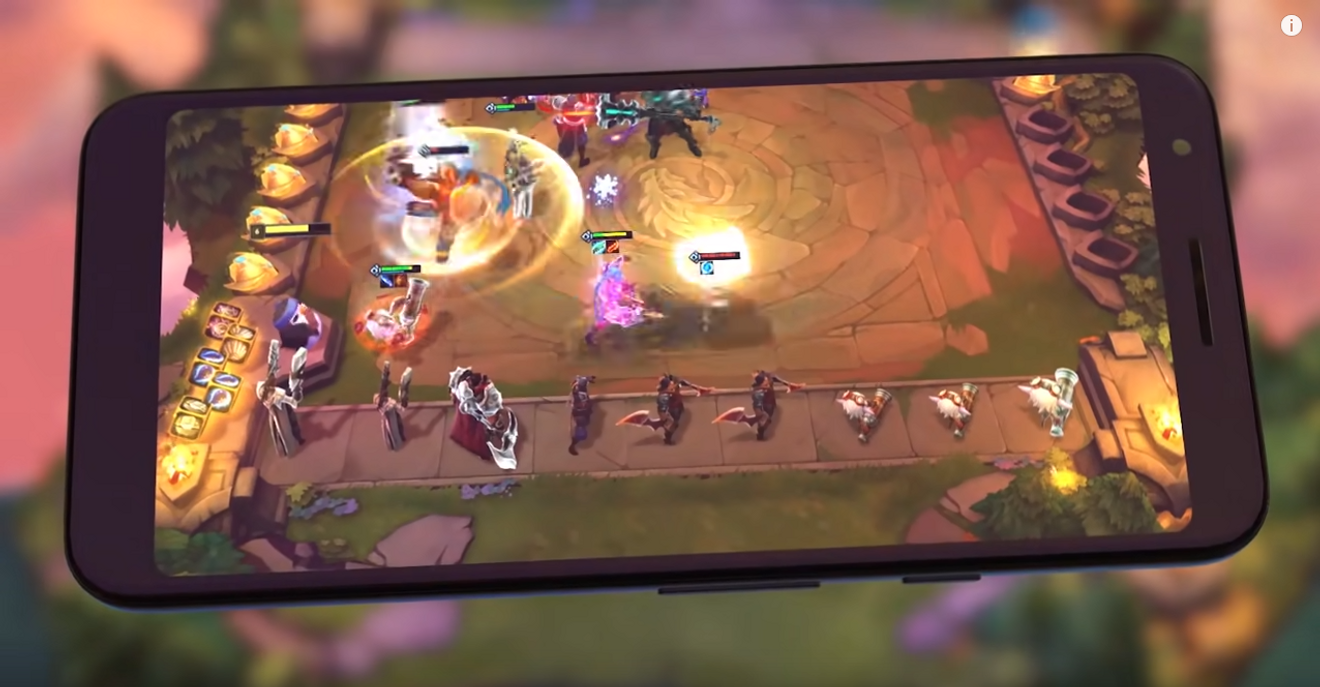 For iOS users: iPhone 6S or older
For Android users:
Android 7 operating system
1.5GB RAM
64-bit chipset
ABI am64-v8a or x86-64
OpenGL ES version 3.0
As previously announced, Teamfight Tactics Mobile will support cross-platform play in many regions, but not Southeast Asia. Garena will continue to support Teamfight Tactics on the computer and the League of Legends account on Garena that you use to play the TFT PC will still work. However, gamers cannot use their Garena account to log in to the TFT Mobile.
Ranking system will also be applied immediately on mobile.
Information From: Youtube