In League of Legends, there are champions who have lost complete control of their own bodies to the parasites which live inside them.
As you all know, each person is only given one body and one soul to live. This is considered an unwritten law of nature, but in Runeterra, where anything is possible, there exist champions who no longer have complete control of their own bodies.
They can either use their bodies as a tool of exchange to gain power, or unfortunately swallowed up and be the slave to that power. Here are 8 champions who borrow power by letting the other creatures reside inside them.
Swain
As a warrior, one of the three head rulers of Noxus, ever since reworked Swain always exuded mysteries about his own abilities. Joining the battlefield in Ionia, Swain was severely wounded by Irelia, resulted in the loss of his left arm. But this is the chance bringing Swain to one of the 10 demon genealogies that once existed in Runeterra – Raum. 2 souls merged into one body, Swain gaining power and recovering all his wound from the war, he traded his body to bring Raum back to life.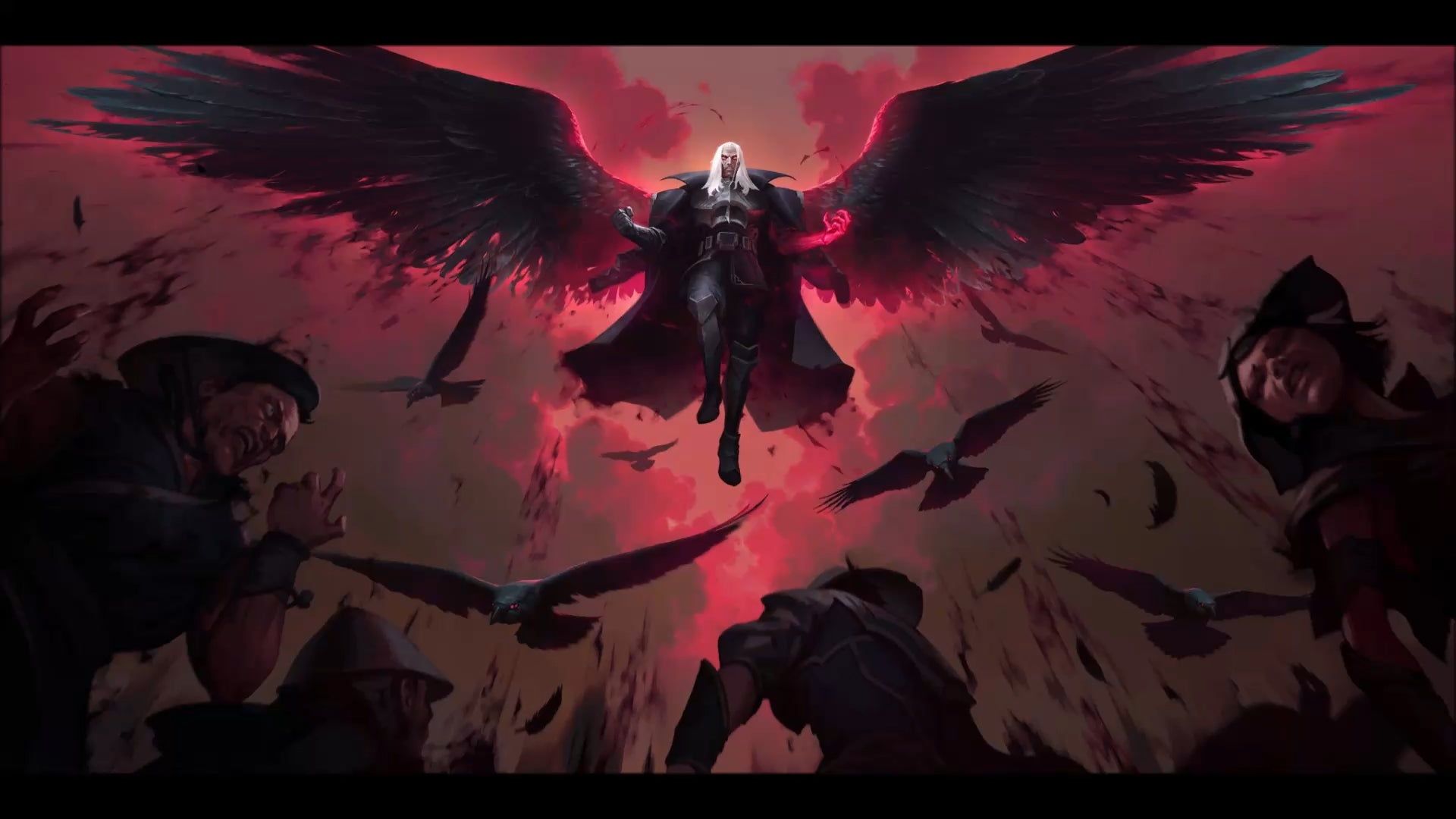 However, there are still many mysteries unsolved between Swain and Raum, basically Swain is the first person able to tame and borrow the power of the demon before Yone appears. Some theories suggest that Swain deceived Raum and sealed it off in order to use it's power, but the power of these ancient demons was limitless, and is it reasonable for Swain to easily controlled this demon? or is the demon using Swain as a tool for his comeback?
Shaco
Born at the same time with Raum, the Demon of Obtuse – Delirium may have been around for quite some time that the entire Runeterra is still shaping. Presented as a toy made long time ago for a lonely prince. The puppet is just an inanimate creature with no soul before being reached by Delirium's dark magic and became a brutal mercenary assassin.
Shaco was demonstrated as an entity object inhabited by dark magic in the same way that Raum resided in Swain's body. However, this is also a rare case where devils do not choose the living creature but only use a toy as a tool to gain access to the human world. However, the fact that Yone and Swain can control most of their bodies at will make these demons difficult to behave like other siblings, so residing in a non-living being will be able to bring them the full power?
Yone
As the latest champion to appear in League of legends, Yone with the image of a Swordsman using two swords is the next host of the demon of obtuse. As showed in "The Path, An Ionian Myth", Yone encountered a mysterious demon. During the clash, Yone managed to win and steal the opponent's sword and land a fatal blow at the mysterious demon. But in a moment of being caught off guard, Yone was attacked by the demon and became a half-human, half-demon swordsman.
Fortunately, Yone continued to be able to control his body and utilize Azakana's power. This is a demon, smaller than entities like Evelynn or Tahm Kench. While the above two represent primitive emotions like desire and addiction, The Azakana are a swarm of demons that represent for something more specific, personal feelings such as stingings of consciousness, fears of being forgotten, etc. They showing signs of a surge after Ionia went through war with Noxus with great anguish.
Karma
Beside Yone, Karma is also the chosen one in Ionia, her body contained the power of the most ancient soul of Ionia. Just a normal girl grown up in the north of the Shon-Xan plateau. Until 12, she started to dream about strange fantasy images of her past life rushing to her new body in a future Karma.
In terms of the role and origin of Karma in Ionia, where sects often live in seclusion and divided into two factions Villains and Guardians. Although each factions has a different source of power, they almost cannot compare with an individual, the Enlightened One. Karma is the incarnation of an ancient Ionian soul, spiritual enlightenment of each generation, is considered as a symbol of the origins of the First Land and a powerful spiritual soul that can reborn thousands of lives.
Not just that, when Karma is angry, she can unleash her divine fury, destroying the ship and the entire crew in one breath. However, this power is very rarely used and basically Karma's soul and power still under Darha's .
Brand
He was born in a family with a pirate father and being shunned by all the people here. Brand, also known as Kegan, had an extremely difficult childhood when his mother passed away and the alienation and ungratefulness of the villagers there made him angry. Burning an entire village before being adopted by Ryze shows that he has loses his humanity and turned into a hateful demon.
After being saved by Ryze, Kegan's nature never change, all he learn is magic and no action of repentance. The young Kegan's betrayal as well as the fire of hatred that prompted him to take over a piece of Runes and be swallowed up by it's own powerful magic. Now, Kegan's soul as well as memories are gone and he is the only champion to be manipulated by the power itself.
Senna
Under the curse of being haunted by the Black Mist even as a child. Senna, cursed by the Mist, was constantly chasing her, as if moths plunged into the light. However, Senna was very fortunate to be surrounded by a Light Guardian named Urias and later joined the ranks of the Guardians of Light.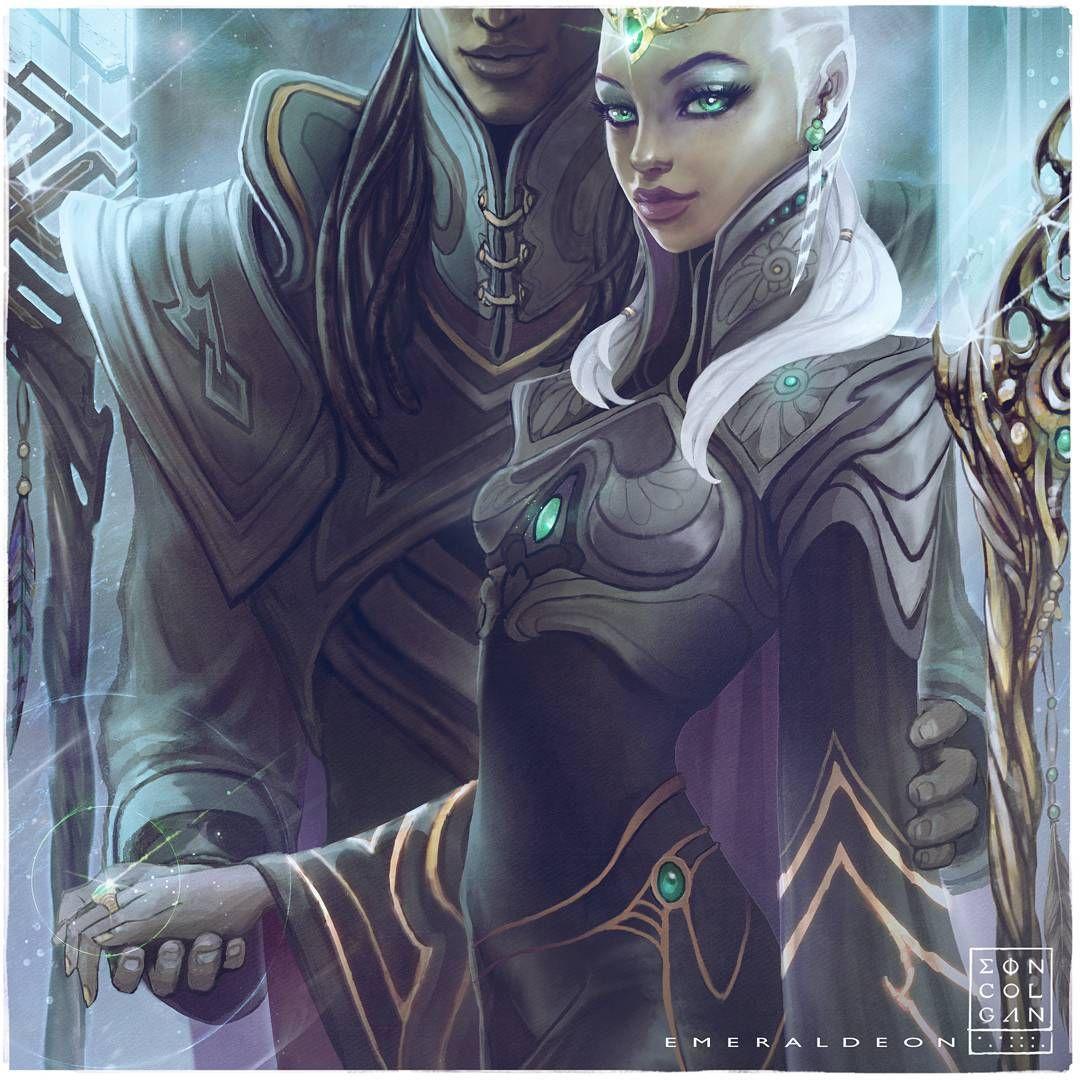 Perhaps she herself could not have imagined that after Urias died, she would find and meet her life's destiny – Lucian. The two fight together side by side until they clash with Thresh and he succeeds in trapping Senna's soul into his lantern. It seems like an end to her, but when entering the spirit world in the dark lanterns of the Chain Warden.
She finds out the truth about her curse and uses its power to suck souls into her body and strengthen herself. It can be said that out of all the body-borrowed champions, Senna is the luckiest one not only has complete control of the body, but it is also noticeably stronger than her husband.
Darkin
Once an elite army of the Shurima Empire gathered the most mighty warriors to protect the kingdom. But after the Xerath coup caused the whole kingdom to be devastated, these guards devour each other and become Darkin devastating the world. Luckily, Darkin was sealed away by the Solaries of the Targon and currently only three members appear including Aatrox, Varus and Kayn.
Basically, these creatures are quite ruthless because from the moment this dark weapon chooses a host, one will constantly be overwhelmed by a power and seldom controllable. This power will soon take root in flesh and bones, reshape them, and form a new – monstrous form. Darkin host and soul will have a certain symbiotic relationship. Darkin users can borrow a portion of their power and conversely, Darkin can possess part of that body. However, there are cases where one of two beings overwhelms the other. Like, Darkin is able to control its host, devour willpower, and gain control of the entire body.
Likewise, the user of Darkin can use his mighty will to remove it and fuse its power with the weapon. In both cases, whoever is dominated will be considered dead. And up until the present time, all 3 Darkin have different status, Aatrox has taken over his host for a long time, while Rhaast continuously tried to gain control of Kayn's body but failed, and Varus has yet to fully control Valmar and Kai in their symbiotic body.
The Targon's Solari
The last name and species mentioned on the list are the Solari of the Universe, also known as the Solari of Mount Targon. The Solari of the Universe are indeterminate entities in the universe. They are beyond human understanding, unbounded by matter or time. The Solari also have the ability to influence the universe and realities with their power.
In the legends of several champions from this area, the Solari seemed to be very interested in Runeterra, especially the people of Targon. The Solari continually choose warriors that have conquered the Targon mount such as Taric or Pantheon to give them strength. In order to communicate with Runeterra, however, they would have to appear as incarnations by merging into a mortal with the right qualities. The incarnations, though possessing immense power from the Solari, will be bound by their mortal bodies. But basically they are all of good quality and worthy of the strength given to them by the great Solari.