Someone at Riot's HQ has been losing games with AP Shyvana lately
Mark Yetter, also known as Riot Scruffy, working as Riot's Gameplay Design Director, teased a detailed list of balance changes, which are headed for Patch 11.3 release.
Several champions are bound to be nerfed, owning to their dominance of the meta, such as Olaf, Pantheon, Anivia, and League's most infamous release, Seraphine. While most of the nerfs are mere stat changes, which can either substantially affect the win rate of a champion or barely scratch it, the list of the buffs features some questionable decisions.
Riot added a 40% AP ratio on Shyvana's Q (Twin Bite), a basic attack modifier that causes her next basic attack to strike twice, resetting her auto-attack timer, and procing on-hit effects twice. It also procs effect such as Sheen, Lich Bane, Divine Sunderer, and Trinity Force. This gift from Riot Games to the Half-Dragon will cause her basic attack to hit like a truck once she acquires her Lich Bane.
But Shyvana can only do that if she gets close to the target, right? Riot already has a suitable solution to make this buff even more collosal by adding a 8% movement speed per 100 AP – which means at 300 AP she will have more MS on her Burn Out (W) than an assassin activating Youmuu. Combined with the fact that she can easily gap close by using Dragon's Descent (R), which also deals tons of damage.
Currently, AP Shyvana's primary weakness is that she relies exclusively on her Dragon Form and Ability Haste. Her gameplay revolves around her Dragon's Descent uptime, and try to unleash as many Flame Breath (E) spells as possible. With this new buff, Shyvana can excel as both a poke mage and an assassin/diver by R in, throwing an E before that one super-empowered auto-attack. Her win rate is expected to skyrocket next patch.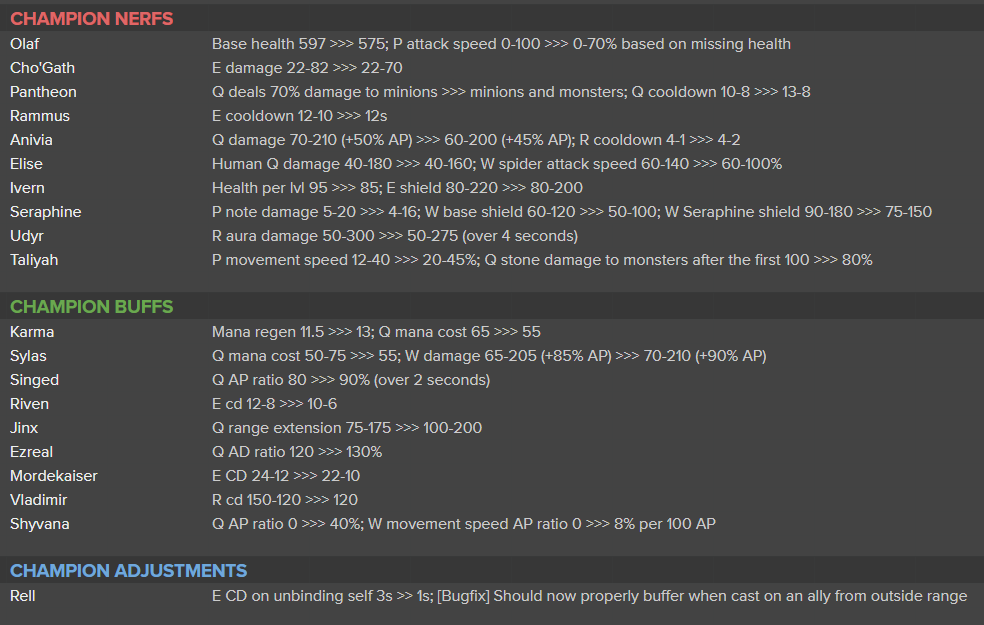 Aside from this monstrous positive adjustment to Shyvana, Jinx, Ezreal and Riven also receive some buffs. Jinx has 25 more range on her Q, Ezreal has 10% plus attack damage scaling on his Q, Riven and Mordekaiser has 2 seconds less cooldown on their E. While these do not seem much, expect them to pop up around more often in solo queue games, as they are already popular picks at the moment.